For so many, travel ignites a passion and brings about happiness. It's a link to learning about other cultures and in its own way creates connections new and old for people. Many individuals thrive on traveling and learning about new places. So, what happens when all of a sudden, travel comes to a standstill? The coronavirus pandemic has disrupted life as we know it in so many ways and the travel industry has gravely felt the impact.
Mental Health Missions speaks with certified travel expert, Melanie Gentz about the emotional relationship people have with traveling, how to cope with these sudden changes amid uncertain circumstances, and ways to cultivate joy around travel at a time when most people are staying at home.
Mental Health Missions: It is widely known that many people find great pleasure in traveling. In your opinion, how come travel is so important and such a passion for so many? What is it about travel that resonates with people?
Melanie Gentz: I think in many ways travel is an extension of a person. We often use travel to mark a milestone like a birthday, a honeymoon, or a graduation trip. We might feel like we need to go somewhere to celebrate or mark an occasion, travel provides us with that. There is so much that travel encompasses. At its core, travel creates connection. It can allow a person to connect with a destination, a culture, it is about connection between humans, and can be a marker of a shared experience. Travel is different to each individual but for people who really identify with going to new places, it can fulfill a deeply seeded need. It can serve as an escape from reality, satisfy dreams, and be a recharge. Even just a short weekend away can sometimes feel life changing.
Traveling also gives way to a cultural phenomenon like seeing iconic landmarks, experiencing authentic cuisine, food and drink, hearing another language, and learning new customs and cultures. It can be a way in which a person connects to their past, tracing their origin or doing a pilgrimage. In so many ways, travel and learning about different traditions can be instrumental in shaping a person.
MHM: The travel industry has taken a big hit because of coronavirus. What do you say to people who are feeling frustrated and disheartened because travel is basically at a standstill right now?
MG: What's happening now definitely feels surreal, especially if you are someone who looks to travel as a way of celebration and exploration. In a way, the disruption of not being able to travel puts a halt on the celebration of life but there are so many areas of our lives that have been displaced by the pandemic.  
I would urge people to make good use of this time as it pertains to future travel plans. Take this time to read a book about a country you want to go visit, learn the history about that country, or watch a documentary. The fact that a lot of us have time right now presents an opportunity for people to really dig in and do research about a place they would like to visit in the future. It also allows for the chance to explore places we might not otherwise consider going and to dream about these places. Like being taken away by the thoughts of visiting a beach and the solitude or going to the European countryside.

MHM: What guidance can you offer when it comes to rebooking/rescheduling/cancelling travel plans? Some people may have had plans in place for many months, even years.

MG: When it comes to cancelling verses rescheduling, I want to remind people that while this ordeal that we are living through feels never ending, we will be able to travel again. So, if you have travel plans that need to be changed, talk to the companies—whether that is the airline, cruise line, or booking company. See what your options are to rebook once things pick up again. Many companies are offering incentives to rebook at later dates rather than cancel altogether. This might include upgrades or additional promotions. Postponing rather than cancelling will also help an industry that has been deeply affected by this crisis. Of course everyone's individual circumstances are unique and if you need to cancel your plans altogether, check with companies through which you booked about their refund and cancellation policies.

MHM: At current, millions of people have had milestone events cancelled or disrupted— weddings, honeymoons, graduation trips, among other special events. As someone who works in the industry, what do you say to individuals who are coping with the losses of those important experiences? Are there things people can do in lieu of travel right now?

MG: There's no question that what is going on right now is bringing about a lot of emotions in people in a variety of ways. Losing special plans that have been in place for a long time can be a source of grief; a person is grieving that anticipated trip which they were excited about. I think it's important to remember that feeling whatever emotions come up for you are ok, whether that's anger or denial, whatever someone might be feeling, it's ok. This time can be used to check in with yourself, make sense of those emotions, and grieve for any sense of loss you are feeling. That might be the loss of a trip, a milestone, a gathering with family/friends, a solo expedition, or the anticipation of any of these things.

While it won't be the same, it's important to remember that there are many things people can do in lieu of travel right now: Pick up an old travel journal and reflect on how grateful you feel to have that past experience. Sometimes reliving an old journey can conjure up feelings of gratitude and give you a new appreciation for those special experiences. Immerse yourself in a culture that you feel drawn to—learn what you can about it, maybe that's about the language, the food, the history, the wine. For example if you have a pull to go to Italy, maybe you take up learning about Italian cooking right now. You're not traveling there but you're allowing your mind to explore, take in new information, and find purpose.

And, there are countless virtual experiences that are available right from your couch. There are so many different opportunities from National Geographic Travel to Google's Hidden Worlds of National Parks to Virtual Travel through the Smithsonian. You can also visit amazing landmarks and museums including a Virtual tour of the Vatican, The Tutankhamun Exhibition in London, Degas at the Opera in Washington DC, The Met in NYC, or hop on a tour of 5 National Parks you can Visit Virtually. These are all interesting, educational and pretty cool things you do without even leaving the house!

MHM: For those who are unable to fulfill their travel passion and goals right now, what are some alternative ways you might suggest a person fill that "travel void"?

MG: Ironically there's a lot you do and it can be fun. You might want to select a culture and focus on learning about the traditions of that culture, maybe join a Facebook group with similar interests. Take a virtual cooking class about the local cuisine from a particular region, find out about wines that are native to that area. And you can make this about connections too, your friends can participate and you can make this an interactive conversation online through Zoom or another networking platform. You can also create connections with people living abroad, there are websites dedicated to just that.

MHM: There are people currently who might be stuck or diverted on their travel itineraries because of the coronavirus. What is your best advice to someone who is stranded and trying to get back home? What resources can they access and reach out to?
MG: First you want to check with the individual carriers or companies for which your tickets or travels plans were booked to see what kind of assistance they can offer. As for government resources, depending on your home country, access the equivalent of your country's State Department. If you are stuck in another country, make contact with your home country's foreign consulate or embassy to see what guidance they can offer about helping you return to your home base. Here are some other helpful resources:
• U.S. State Department
• IATA Information Page on Flight Restrictions
• Centers for Disease Control

MHM: As far as travel goes, when do you foresee we will get back to a place of "normalcy"— whatever that looks like?

MG: – I think this question can only create more questions. The true answer is that we don't know. We hope we will be able to resume travel as normal sometime in June or soon after. Given the uncertainty of where things stand there are concerns there could be a resurgence in the fall so I think it is a "wait and see" approach for right now.

MHM: Once we get back to a place where travel can resume to "business as usual", or perhaps to a new norm— what are your suggestions about how people can once again cultivate joy and happiness during their travels? Do you think that travel is forever changed because of the pandemic?

MG: There is no question that this pandemic has changed travel and how we will travel but we do not yet know the full capacity of that change yet. It's possible that going forward, terms and conditions will be more flexible than they were in the past. I think that companies will want to work with customers and allow for the ease of doing business and making changes to reservations as needed. We may see an uptick of independent travel where people exercise more control over their own itineraries and plans but again, it's an unknown. I do think as far as travel is concerned, it will be "a new normal."

MHM: Any ideas how that new normal will look for the travel industry?
MG: I think about how travel gives us a greater appreciation for our way of life and there are so many ways in which it does that; supporting small business throughout the world and funneling dollars into the global economy of travel commerce. We will all have a part in helping the industry to rebuild after we get past this. Every aspect of the industry will need to rebuild and redefine; hotels, cruises, airlines, and independent companies that offer services and complete travel packages. The whole industry will be affected but we will travel again and will be able to so safely. Just because travel has been disrupted does not mean it is something we cannot build back up again and find that inner joy. We just have to pivot in the meantime.  
MHM: What advice would you give to people who are feeling anxious about traveling after the pandemic, particularly when travel is often an escape from the stress of everyday life?
MG: Again, we don't know when and how this will all end. Will there be a vaccine soon? Will we feel safe to move around our cities, airports, and the world? And will we feel comfortable doing so? Will social distancing become a new norm? All of these questions can cause anxiety. Knowing that aircraft will be cleaner than ever and that there will be stricter guidelines when it comes to cleaning and disinfecting communal areas may help in trusting we will be safe and healthy when we travel.
As for what to do when feeling anxious, do what helps you navigate your own anxiety; whether that is to continue to wear a mask or scarf while in crowded areas, carry hand sanitizer, or become more thorough in hand washing. People can always check the CDC guidelines for travel advisories and for the specific destinations they are going to. Travel can be a way to escape and relax; eventually we will get back to a point where we can rely on travel to get away from the stress of everyday life. 
MHM: You are such a travel enthusiast; what is your favorite travel destination that you have visited and why?
MG: I think I would have to say Egypt. It is a country rich in history. I spent much of my childhood learning about Egypt, its history, and the landmarks. I had seen so many documentaries about the discovery of the tombs, and then to have the opportunity to be there was a feeling far bigger than me. To stand where Biblical figures have stood. To see the Pyramids, the large statues at the Valley of the Kings and the Valley of the Queens and to swim in the Nile and see King Tut's tomb and sarcophagus, it was incredible. I remember as I made may way to Alexandria to put my feet in the Mediterranean for the first time and to stand there with the Citadel up on the mountain, thinking, 'what an awesome world we live in,' and how lucky I am to have had that experience. Those are the kinds of feelings we tie to travel. Travel has the capacity to instigate these wide-ranging emotional responses.
MHM: Any last thoughts or words of wisdom that you can offer to folks in the moment?
MG: The coronavirus pandemic has been a total disruption to the whole travel industry and to many people's plans but one thing it can't do is take away our experiences. Those are ours to hold onto and reflect upon. And, when this is all behind us we will once again have opportunities to create new travel memories. Perhaps that means that 2020 is a year of pause and reflection and come 2021 we can start planning trips again with a little more normalcy. 
Melanie Gentz has 15+ years working in the travel industry. She has worked in many different capacities of travel including volunteer travel, adventure travel, cycling, and hiking tourism. Ms. Gentz is based in Denver, Colo.
---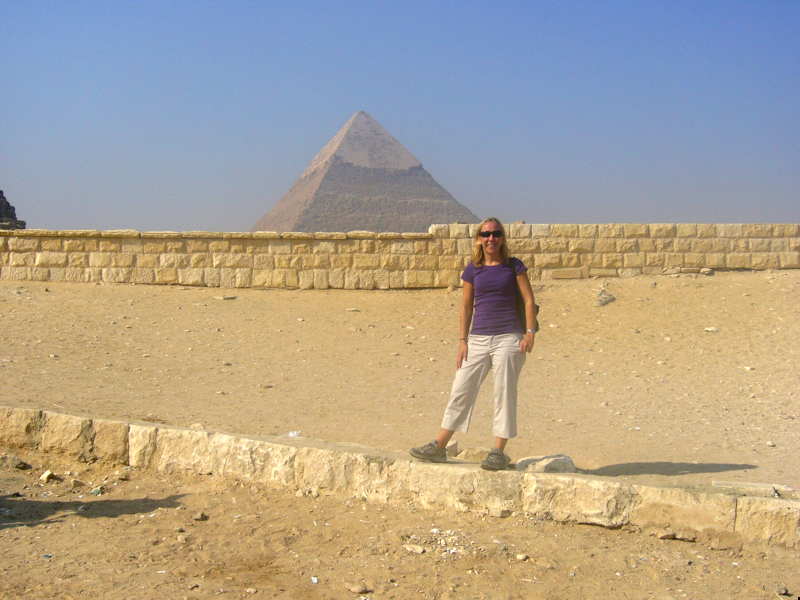 Enthusiastic about travel since childhood, Ms. Gentz stands in front of the Egyptian Pyramids, one of her all time favorite travel destinations. Photo courtesy of Ms. Gentz.