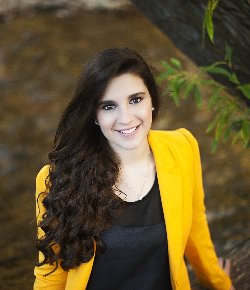 Position: Student at the University of Colorado at Boulder & President of NAMI (National Alliance on Mental Illness) On Campus at CU Boulder
What prompted you to get involved with mental health causes and why do you continue to do this work?
I became passionate about mental health when I was in high school and noticed that many of my fellow classmates were struggling with the stress of school and applying to college. This passion grew as I started college and took an introductory psychology course. Around this time, I also joined NAMI On Campus where I learned more about different mental health topics and stigma.
What has doing this work taught you?
This work has taught me so much about people and it has shown me that everyone has their own struggles that you may or may not see. It has also helped me grow to be more empathetic and open towards new people and new experiences.
When it comes to the work you have done in the mental health field, what do you feel most proud of?
I feel the most proud when I see how this work can change how people think about mental health and mental illness. It reminds me why this work is important when I talk to someone and I can tell that they are thinking about mental health/illness from a different perspective. I am also very proud of the Mental Health Assistance Fund created by NAMI on Campus and Counseling and Psychiatric Services (CAPS). This fund provides financial assistance to students who need help paying for services at CAPS.
What is the biggest misconception(s) people have about mental health and/or mental illness?
I think one of the biggest misconceptions people have about mental illness is that mentally ill people are violent. In reality, it is much more likely that someone living with a mental illness would be the victim of violence rather than the perpetrator. Unfortunately, I do not think this is how it is always portrayed in the media. This contributes to the stigmas relating to mental health and mental illness and it is why it is so important to talk about.
What is your greatest hope when it comes to your professional mark/legacy?
I hope that my work encourages an accepting and understanding culture on campus so that students can discuss mental health and eventually get help if they need it.
What is your simplest joy?
My simplest joy is learning. I am currently in school so I love learning in the academic sense, but I also love learning about other people and learning how to grow as a person. I know that even after I am done with school I will be a life-long learner and continue to better myself.