Filmmaker, Dr. Suez Jacobson reflects on her love for the outdoors, massive consumerism in a global economy, and how nature can play a vital role in emotional well-being
by Melanie Taussig
Sitting at a coffee shop in Downtown Denver on a warm July morning, Dr. Suez Jacobson recalls feeling very much like an outsider during the years of her youth. Raised in Salt Lake City, Dr. Jacobson felt as though she did not "fit in" with her peers very well and as a result, spent a great deal of time in solitude amongst the great outdoors. With some of the most exquisite scenery on earth providing the backdrop of Salt Lake, it was not a far getaway to the formidable Wasatch Mountains that encompass the city. These early experiences played a pivotal role in Dr. Jacobson's draw toward nature and prompted later philosophical questions that paved much of the trajectory of her life's path.
Dr. Jacobson capitalized on her love of the outdoors making countless visits to one of her favorite outdoor spots, Lake Blanche in the Twin Peaks Wilderness and then spent her early twenties as a ski bum in Alta. By this time she had dropped out of university and was savoring all she could of the great outdoors. Then, came a wake-up call of sorts. Soon to be approaching 30, Dr. Jacobson decided to return to school and completed a degree in economics. During this time she began to contend with profound questions about how nature and economic theory are intertwined. After graduation Dr. Jacobson flirted with the idea of going to law school but instead stuck with economics, earning a doctorate in the subject and ultimately becoming a college professor. She taught at various academic institutions before coming to Regis University in Denver, a position she retired from in 2018.
Academia provided Dr. Jacobson with the space and opportunity to think innovatively about the relationship between nature and the economy. She began to conjure theories about how nature could drive economic growth. Dr. Jacobson talks about how during her tenure as a professor she would profoundly think about the notion of awe, explaining the adulation people experience when they connect with nature. It was Dr. Jacobson's tireless curiosity that prompted her to further explore the long-standing questions she had about the relationship between economics and nature. Her inexorable wonderment culminated in the birth of "Wild Hope." Made over the course of six years on a meager budget comprised mainly of private donations and a Go Fund Me page, "Wild Hope" addresses many of the issues Dr. Jacobson had spent years pondering.
An insatiable appetite for consumerism
"Wild Hope" is a thought provoking documentary, exploring society's ongoing love affair with materialism and, the concept of awe that exists when feeling in sync with nature. The film raises questions about people being driven to seek fulfillment from material goods, mentalities that are pervasive in many Western cultures. Such thinking can create a vicious cycle of inevitable disappointment, as things cannot emote people the way awe can. Sure, a fancy car or new sweater might initially dazzle someone but that seduction and satisfaction is short-lived. In some ways it can be similar to an addiction, as the voracious desire people seek from "things" is like a bottomless pit, the endless yearning for coveted gratification mimicking that of chasing a shadow and yet, the cravings for more remain. People continue to want more, which can lead to frivolous buying habits and vapid patterns of consumerism.

"Wild places can make us question the basic fundamental paradigm of economics by creating awe" says Dr. Jacobson. She asserts that the feeling of indulgence which people are seeking in material goods can actually be found in the great outdoors and that nature can in fact be extremely valuable, the payout being a visceral sense of awe. She explains, "awe turns us out of ourselves and makes us have a common bond with ourselves and others." Unlike manufactured goods, the dividend resulting from awe cannot be quantified.
Emotional wellness and happiness amongst the great outdoors
A large focus of "Wild Hope" is the relationship between economics and nature, however, the film also seeks to parse the impact nature has on people's emotional wellbeing. Dr. Jacobson speaks fervently about how nature is good for mental wellbeing and the gargantuan role that nature has played in her own life. She refers to nature as "a reprieve from the relentless pressure to fit in" explaining how those pressures seem to be assuaged while surrounded by the great outdoors. Dr. Jacobson goes on to discuss advantages that come from spending time outside including slowing heart rates and lower blood pressure. In a society overcome with technology, some pediatricians are "prescribing the outdoors" in order for children to capitalize on the health benefits associated with being outside.

"Nature allows you to feel the solitude of being with yourself and to be ok with yourself," proclaims Dr. Jacobson. Being connected to nature can amount to feelings of greater self-esteem and worth, things that can be compromised when material goods are primacy. A relationship with nature can also alleviate feelings of isolation. Dr. Jacobson speaks about being in the presence of nature and how that is an inimitable experience which cannot be replicated by material goods. "Awe," Dr. Jacobson says, "helps us connect [with ourselves and others] and un-self," an anomalous concept in our selfie-obsessed society where humility is sometimes a scarcity.
A moment in time with to contend with relevant questions
Throughout "Wild Hope" there are several compelling quotes about the environment that are featured, providing reason to pause and reflect. Environmental issues have recently been the topic of widespread global debate. Many prominent political figures consider climate change and global warming to be cataclysmic threats while others discount the existence of these issues altogether.
As much of "Wild Hope" centers on the impact that nature has on humans, it seemed fitting to ask Dr. Jacobson her thoughts about the converse. Dr. Jacobson describes climate change as "overwhelming" and worries about the effect that society's hunger for convenience will have on the environment. She refers to current culture as a "carbon intensive lifestyle" and wonders if people consider the great cost that colossal consumerism poses to the earth.
Dr. Jacobson's contemplations may seem cynical but she also sees a ray of hope lingering in the peripheral view, after all the film is called "Wild Hope." She is credulous to the idea that trivial shifts in individual behavior can effect great collective change. Whether that is "using cloth bags at the market, taking a 5 minute shower rather than a 20 minute shower, or going vegan a few days a week," the amalgamation of small modifications can amount to big impact. Dr. Jacobson pauses to reflect on why she made "Wild Hope" to begin with. "I wanted to attempt to try and get people to think about the economic system. That it's not working for us and it's not working for the planet."
As our conversation draws to a close, the intensity of the Colorado sun growing stronger as the morning slowly turns to afternoon, Dr. Jacobson speaks with conviction about how she hopes her film exposes more people to understand the influence of the great outdoors. She is implicit about the reverence she believes people should possess for the earth contemporaneous with experiencing the natural gifts the planet presents to us. Dr. Jacobson sees technology as a distraction, if not a threat to appreciating the natural world. She appears somewhat sullen at the thought of people preferring to surf the Internet on their smartphones rather than look at the beauty of the world around them. She hopes that there are more educational programs that emphasize the outdoors amongst diverse populations and that children attending inner-city schools have increased opportunities to engage with nature in urban neighborhoods.
Dr. Jacobson looks outside from the coffee shop where we are sitting, acknowledging the trees lining the downtown streets on the other side of the window. These trees allude that nature is in fact all around us, even amid a bustling metropolis. She speaks of a day not too long ago when she was walking by a city park not far from her home and to her amazement, sprouting out of a gap in the concrete sidewalk was a California Poppy. Enthusiasm emanates as she recounts that day, "there it was, this incredible piece of beauty and nature." Dr. Jacobson's excitement is apparent, that recollection evoking a raw sense of unmistakable awe.
Wild Hope was an Official Selection at the Colorado Environmental Film Festival (2019), the Lyons International Film Festival (2019), and the WRPN Women's International Film Festival (2019). The Film was also featured at the 2019 Bioneers Conference in San Rafael, California. More information about the film and about Dr. Jacobson can be found by visiting the official website of Wild Hope by clicking here.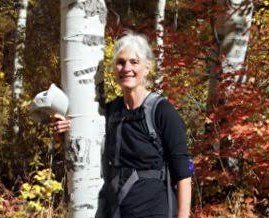 Dr. Suez Jacobson, Executive Producer of Wild Hope. Photo courtesy of Dr. Jacobson.